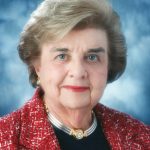 When Pat Martin began her first job as a copywriter, she was among the first women to break into the advertising industry. She continued to be a leader throughout her career: as the first woman ad director in one company, as a pioneer in the integration of advertising; promotion and sales training; and as the first woman chair of the American Advertising Federation.
Throughout her career, she championed—and exemplified—ethical practices and served as a role model and mentor. She was also a dedicated leader within the AAF organization and District 2 in particular. As a result of her of her work, the AAF's District 2 became a powerhouse and was instrumental in strengthening all of the clubs within it.
The Pat Martin Excellence in District Leadership Award is given to a member of the AAF who exemplifies Pat's work by making outstanding contributions to his or her District.