The AAF System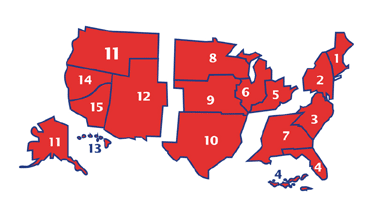 AAF local ad clubs are categorized by geographic location and membership size. These categories help to ensure that all local members are well- represented by delegates to AAF's national board of directors.
AAF Regions
Each AAF local ad club falls within one of three geographic regions: Western, Central or Eastern. Each region collectively elects a regional chair to serve on the AAF board of directors. The regional chair represents the concerns of all the clubs and federations in his or her region.
AAF Districts
AAF districts serve another vital role: They set the framework for well-known industry programs like the ADDY® Awards and the National Student Advertising Competition (NSAC). In each program, district-wide competitions yield top contenders, who then advance on to a national round.
The AAF map is then further broken down into 15 multi-state districts. Each district elects a district governor to serve on the AAF Council of Governors (COG). Members of the COG also serve on the AAF board of directors, representing the interests and concerns of local ad club members.
AAF Divisions
AAF local associations are categorized by size as follows:
Division I – 500+ members
Division II – 250 to 499 members
Division III – 100 to 249 members
Division IV – under 100 members
Division V – Ad 2 Clubs (regardless of membership size)