2018 New York American Advertising Awards Competition – Starting Soon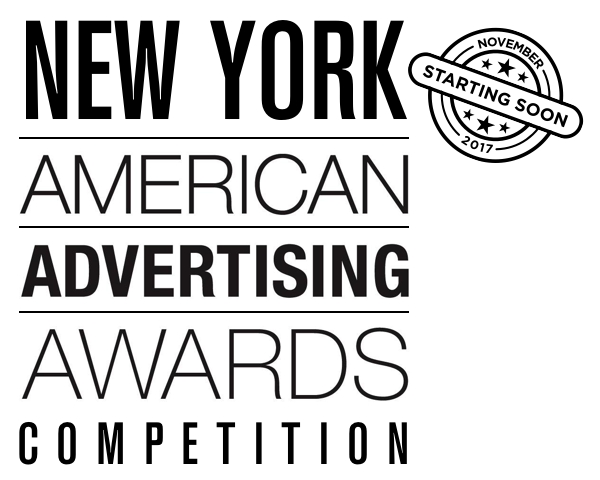 Mark Your Calendars!
The 2018 New York American Advertising Awards Competition Is Coming In November
The 2018 American Advertising Awards (AAA) is the advertising industry's largest and most representative competition since 1960 attracting over 40,000 companies every year in local advertising competitions. The mission of the AAA competition is to recognize and reward creative excellence in the art of advertising. Open to all advertising agencies and creative shops throughout New York City and New Jersey, the New York American Advertising Awards is the first of a three-tiered national competition. Concurrently, all across the country, local entrants vie for recognition as the very best in their markets. At the second tier, local winners compete against other winners in District Two, one of 15 American Advertising Federation (AAF) district competitions throughout the US. District winners are then forwarded to the third tier, the national competition at the AAF. Entering the NY AAA competition is the first step toward winning a national award.
A FULL RANGE OF CATEGORIES
The competition is comprised of 15 categories with approximately 190 subcategories ranging from interactive and print media to out-of-home and broadcast. All GOLD award winners automatically advance to the next competition level.
ENTRY OPTIONS
Beginning in November, you can submit your work as either an individual single entry or as part of a campaign in each category. Students receive special discounted pricing.

Single Entry
$220


Campaign Entry
$240

Student Entry
$35
We will provide a link to the enter when the competition officially opens.
Deadline to enter will be January 5, 2018 by 5:00 PM EST.
Creative work developed and that ran from January 1, 2017 to December 31, 2017 will be eligible for submission.
STAY CONNECTED AND UP-TO-DATE
Connect with us on social media to get the latest updates.
---
2017 NY AMERICAN ADVERTISING AWARDS WINNERS
PROFESSIONAL WINNERS
Download the Complete Winners eBook
STUDENT WINNERS
Aliza Roth and Haley Jackson
Ariana Pierre Yanes, Frank Hammer & Paul DeMontpellier
Chandani Karnik, Luis Carlos Pombo
Deep Chhabria & Santh Kothot
Filipe Nogueira & Joel Robert Johnson
Filipe Nogueira, Haley Jackson & Stephanie Vicari
Kazunori Shiina, Chandani Karnik
Kim Truong, Wael Khairy, & Helen Lu
Thompson Imasogie, Don Foshay & Cristina Nocerino
Tori Curtis & Marco Russo
Yeon Sang Yoon & Joon Ho Ahn
Yeon Sang Yoon, Joon Ho Ahn & Jin Sung Park
Yuji Yang & Dayoung Hwang
Zuheir Kotob & Evelyne Wyss
Download the Complete Winners eBook
---
ABOUT THE AAF DISTRICT TWO
AAF District Two® (AAF D2) is a not-for-profit 501(c) (6) organization and is the second district of the American Advertising Federation (AAF) – The Unifying Voice For Advertising, home to the NY American Advertising Awards and represents chapters in NY, NJ, PA, Delaware, Maryland and Washington, DC. Our mission is to help foster, mentor, and support professional development, recognition and opportunities for communities of professionals and students in advertising, marketing, and design.